APRIL 13, 2020
During the current and unforeseen cancelation of th
e 2019-20 season, the players in the NAHL saw their seasons cut prematurely short. In some cases, players saw their junior hockey careers come to an end as well. However, the NAHL got together a decided to highlight some of those players, who were born in 1999 and were in their final season of playing junior hockey.
As a result, we present a new series entitled: 50 players in 50 days
50 players in 50 days will select 50 players from each of the 26 NAHL teams this past season that were born in 1999, are currently uncommitted, and deserve some recognition during their time spent playing and developing in the NAHL. Over the course of the next 50 days, we will take time out to look at their accomplishments, review their season, and provide some background on their NAHL careers. Players will be initially highlighted in alphabetical order by team. Enjoy!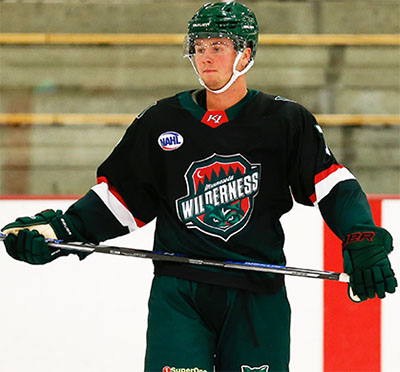 Ryan Nelson, Defenseman, Minnesota Wilderness
Minnesota Wilderness defenseman 
Ryan Nelson
, 20, completed his second and final season of playing junior hockey in the NAHL and serves as team captain for the Wilderness in 2019-20.
The 5'10/190 lbs. native of Esko, Minnesota, had his career best season this past year as Nelson recorded 22 points (5 goals, 17 assists) in 50 games played, which ranked 3rd among Wilderness blueliners.
Nelson made his NAHL debut for the Wilderness with four games during the 2017-18 season, following the completion of his high school career with Cloquet High in Minnesota.
Overall in 102 career NAHL games, Nelson posted 40 points.
"Ryan was a core piece of our leadership this past season as we looked too reinvent the Wilderness culture.  We entrusted him to be our Captain because we believed that he embodied our primary team concepts: Precedence of excellence, Commitment, and Character. These are the values that make Ryan such a tremendous asset to our program and to any NCAA team. He's dependable with his stick work and angles, and a simultaneous offensive threat. He's willing to sacrifice his body on the penalty kill, and talented enough to quarterback the power play. Ryan will be an instant contributor at the collegiate level," said Wilderness head coach Jon Vaillancourt.
During his three seasons with Cloquet High, Nelson appeared in 75 career games and had 58 career points.